Jerome Summers - Clarinetist (Calendar of Events)
Jerome Summers has enjoyed a distinguished career as a conductor, clarinetist, composer, and teacher. As a clarinet artist, he has performed with many of Canada's major symphony orchestras as well as with internationally renowned chamber and solo performers. Prior to joining the Performance Faculty at The University of Western Ontario, he served as clarinetist in the Vancouver Opera Association, Vancouver Symphony Orchestra, New Music Society of Vancouver, Early Music Society of Vancouver (recorders and other Renaissance instruments), the Calgary Philharmonic, Royal Winnipeg Ballet Orchestras, National Ballet of Canada Tours, New York Joffrey Ballet (soloist), Cassenti Players of Vancouver, Cambini Wind Quintet, numerous Hollywood Sound Track recordings and commercial recordings.
More recently, he has appeared internationally with such ensembles and artists as: The Canadian Opera Company, Ottawa Thirteen Strings Chamber Orchestra, Toronto Sinfonietta, Kamloops Symphony, Orchestra London, Kitchener Waterloo Symphony, Sinfonia of North Vancouver, Il Divo, Audubon Quartet, Los Angeles Camerata, oboist Alex Klein, bassoonist Charles Ullery, cellist Tsuyoshi Tsutsumi, violinists Eduard Minevich, Joseph Lanza, and pianists William Aide, Ronald Turini, Jane Hayes, Janina Fialkowska, and Robert Kortgaard.
His first CD recording, Songs of the Nightingale (ibs), was released to critical acclaim in 1994. A second solo solo recording, Flight of the Nightingale (Marquis Classics) with pianist Robert Kortgaard was released in 2001. (re-released in 2008 on Cambria Master Recordings label). Jerome Summers' most recent recording, THE NIGHTINGALE'S RHAPSODY was released in 2007 on the CAMBRIA MASTER RECORDINGS label in Los Angeles. It contains five newly-commissioned Canadian works for Clarinet and String Orchestra.
The disc features a new CLARINET CONCERTO by Michael Conway Baker, PISSARRO LANDSCAPES by Oliver Whitehead, FANTASY by Dale Reubart, and two compostitions by Ronald Royer – his ROMANCE for Clarinet and Strings and the RHAPSODY, for Clarinet, Percussion and Strings. …with The Thirteen Strings Chamber Orchestra of Ottawa, under conductor Simon Streatfeild.
Jerome Summers is a Professor Emeritus at the University of Western Ontario, and appears regularly as clarinetist with Orchestra London, and has served frequently as acting principal for the orchestras in London, Kitchener-Waterloo, Hamilton, and Windsor.
Audio Clips
Movement #1 Rachmaninoff cello Sonata, transcribed for Clarinet by Jerome Summers
Jerome Summers, clarinet, with pianist Ronald Turini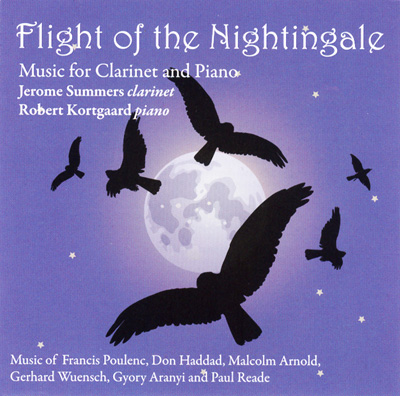 Flight of the Nightingale - Cambria Master Recordings, Los Angeles
CLICK ON THE COVER TO HEAR A SAMPLE OF THIS RECORDING

The contents, images and code on this web page are Copyright © 2007 - 2011 by Jerome Summers. Use or distribution of copyright materials without the written authorization of Jerome Summers is prohibited. All other trademarks and servicemarks are the property of their respective owners.